Interactive video-mapping installation
Sculpture vidéo-mappée interactive
"YOUR FACE, ANYBODIES FACE"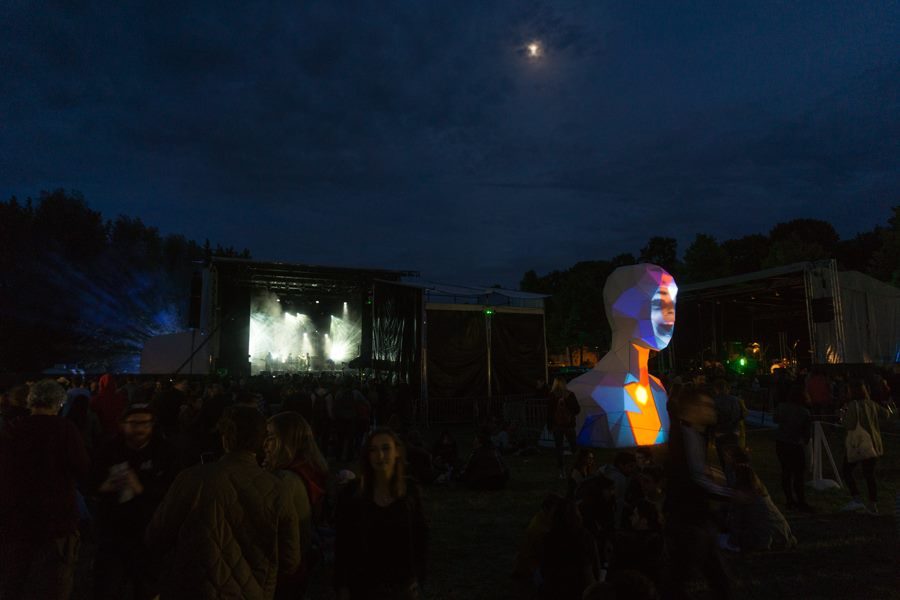 EN : Face is an interactive installation, it invites the public to merge with the 4.5-meter-high sculpture to create a monumental digital avatar. The bust captures the face of the spectator who is positioned in front of him and copies it like a distorting mirror. The distorted, enlarged, enhanced reflection with filters is displayed in the public space for passers-by.
Face makes tangible the impact of a gesture that has become commonplace: sharing your portrait with the whole world via social networks. It's a satire on the famous "profile picture". It has become a challenge: how to preserve your privacy while remaining an active member of these networks which have become essential socialization tools? How to exist in the digital space without being exhibitionist? The installation makes it possible to playfully materialize this phenomenon to which everyone is subjected when they publish content on the social networks. What feeling does one have? Power or vulnerability?
FR : Face est une installation interactive, elle propose au public de fusionner avec la sculpture de 4,5 mètres de hauteur afin de créer un avatar numérique monumental…
Le buste capte le visage du spectateur qui se positionne devant lui et le copie comme un miroir déformant. Le reflet dénaturé, agrandi, augmenté avec des filtres est exposé dans l'espace public à la vue des passants.
Face rend tangible la portée d'un geste devenu banal : partager son portrait avec le monde entier via les réseaux sociaux. C'est une satire de la fameuse "photo de profil". C'est devenu un enjeu : comment préserver sa vie privée tout en restant un membre actif de ces réseaux qui sont devenus des outils de socialisation incontournables ? Comment exister dans l'espace numérique sans se donner en spectacle ? L'installation permet de matérialiser de façon ludique ce phénomène d'exhibition auquel tout un chacun est soumis lorsqu'il publie du contenu sur les réseaux. Quel sentiment cela procure-t-il ? Puissance ou vulnérabilité ?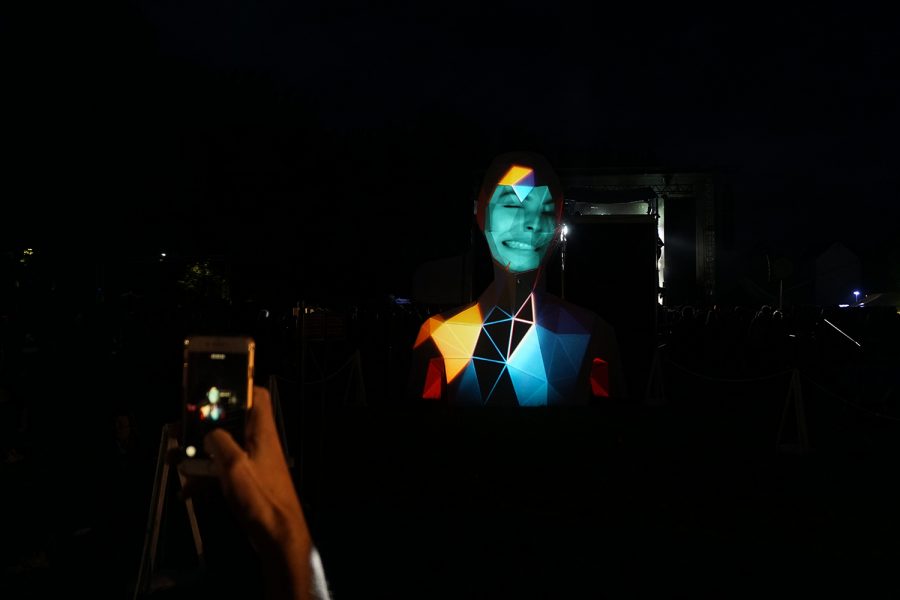 ---
Festivals
---
The Sculpture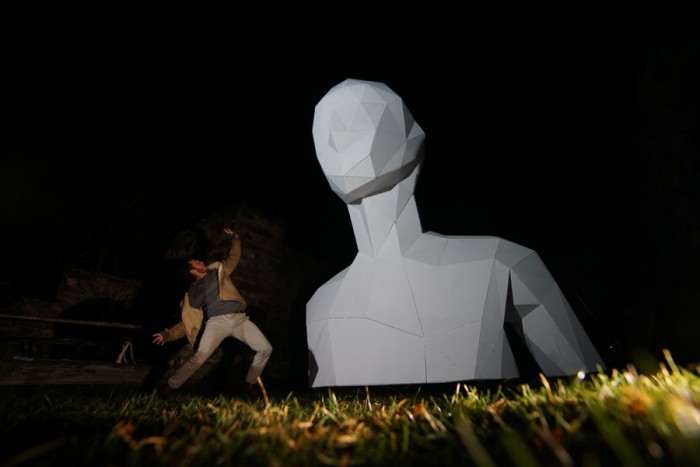 The sculpture's triangles were cut with the help of CNC machining by our patron SML Découpe: http://www.smldecoupe.fr/
Les triangles qui constituent la sculpture ont étés découpés à la CNC par notre mécène SML Découpe : http://www.smldecoupe.fr/
Materials: Plywood and Steel
Video-Mapping: Florian Girardot
Software: Anna Bacheva
Sound Design: Guillaume Etienne
Producer: Lyon Festival of Lights & Fées d'hiver
Patron/Mécène: SML Découpe – Lyon